The introduction of the Australian Curriculum is an ongoing process and will occur gradually over the next few years. 
Teachers are using both the new Australian National Curriculum and previous South Australian State Curriculum (SACSA) until all areas have been fully introduced.
The Australian Curriculum is set up in 3 main dimensions:
Learning areas
English
Mathematics
Science Humanities and Social Science – HASS (History, Geography, Civics Citizenship and Business & Economics)
The Arts (Dance, Drama, Media Arts, Music and Visual Arts)
Languages
Health and Physical Education
Technologies (ICT and Design and Technology)
General capabilities
Literacy
Numeracy
Information and Communication Technology (ICT) Capability
Critical and Creative Thinking
Personal and Social Capability
Ethical Understanding
Intercultural Understanding
Cross-curriculum priorities
Aboriginal and Torres Strait Islander Histories & Cultures
Asia & Australia's Engagement with Asia
Sustainability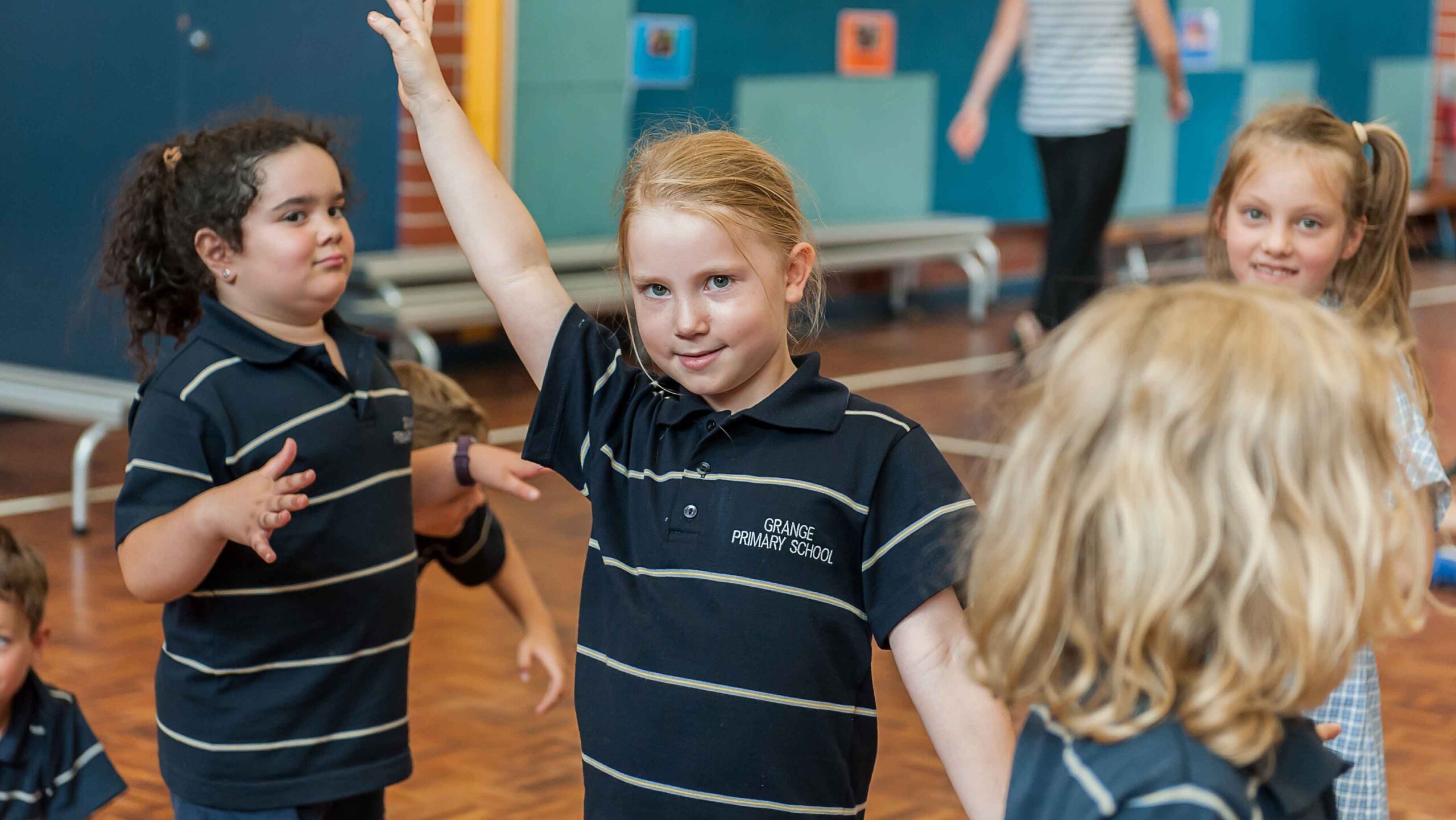 Performing Arts
Performing Arts continues to be a major priority within Grange Primary's teaching and learning programs.
The Arts program refers to all facets of performing arts.
All students have access to a weekly lesson with a specialist teacher; the main focus of these lessons in 2019 is Music and Drama.
Additionally Visual Arts continues to be integrated into classroom learning programs.
Students with High Intellectual Potential (SHIP)
Thinking skills curriculum
We recognise that students who possess exceptional and unique abilities, talents, and interests learn at a pace and depth that sets them apart from their age peers. They require modifications to their teaching and learning experiences so that they become confident, independent and self-directed learners.
Gifted students are identified as a result of observations and information from a range of sources.
Formal strategies can include
Psychologist's reports
standard progressive matrices
Slosson IQ test
achievement test – including Naplan
Informal strategies can include
teacher observations and anecdotal notes
checklists of traits and characteristics
cumulative school history
interviews
competition results
nominations forms
Differentiation programmes are negotiated and based on individual student's needs and may include
Early entry
Year level acceleration
Subject acceleration
Working with a mentor/LAP
Enrichment /extension programmes including work at Seaton High School
Individual contracts
Higher Order Thinking Strategies integrated in classroom programmes
Competitions such as Tournament of the Minds, Oliphant Science Awards, ICAS, Future Problem Solving, Math Olympiad, Poetry.
Higher Order Thinking Skills
Our staff acknowledge that all students benefit from learning experiences that develop their creative problem solving and critical thinking skills, reasoning ability, and skills in decision-making and communication.
All students are offered teaching and learning programmes which integrate a range of Higher Order Thinking Skills including
De Bono's Six Thinking Hats
Graphic organisers such as The Fishbone and Consequence Wheel Compass Rose
MELTABRC
PMI (Pluses/Minuses/Interesting)
Moral Dilemmas
Staff Professional Development
Our teachers actively engage in on-going professional learning and training about
the characteristics and needs of gifted students identification processes
appropriate instructional strategies to use in the classroom, within each school and across the Cluster
integration of higher order thinking skills across curricular areas.
**Established in 2001, the Tangara SHIP Cluster consists of four schools in the western suburbs of Adelaide in South Australia.
The membership schools are:
Hendon Primary School (Preschool – Year 7),
Grange Primary School (Reception – Year 7),
West Lakes Shore Primary School (Reception – Year 7), and
Seaton High School (Year 8 – Year 12).
Sports & Physical Education
Student participation in Sport and Physical Education is seen as important at Grange.
Through our specialist teaching staff, sports skills/coaching programs and a highly organised after school hours sports program, a wide range of Sport and Physical Education learning activities are available to all students at Grange. The school recognises the importance of a healthy life style and regular daily fitness activities for its students.
We are proud to offer the following after-school sport activities for students:
Netball, Wednesday lunchtime
Soccer, Terms 2 and 3
Softball, watch this space
Football, Terms 2 and 3
Basketball
Cricket, Terms 1 and 4
Get in touch
Location: 39c Jetty Street, Grange SA 5022
Telephone: (08) 8353 2688
Email: dl.1022_info@schools.sa.edu.au
Office hours: Monday to Friday, 8:30am to 4:00pm
Recess: 10:45am to 11:15am
Lunch: 12:55pm to 1:25pm
Class times: Monday to Friday, 8:45am to 3:05pm
School grounds: Monday to Friday, 8:30am to 3:20pm - where there is a teacher on yard duty
Get in touch
Location:
39c Jetty Street, Grange SA 5022
Telephone:
(08) 8353 2688
Email:
dl.1022_info@schools.sa.edu.au
Office hours:
Monday to Friday, 8:30am to 4:00pm
Class times:
Monday to Friday, 8:45am to 3:05pm
Recess: 
10:45am to 11:15am
Lunch: 
12:55pm to 1:25pm
School grounds:
Monday to Friday, 8:30am to 3:20pm - where there is a teacher on yard duty